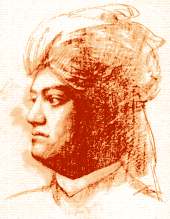 Chapter Six
The Devotee as Friend of Swami Vivekananda
1.
It wasn't long, after I took up my new life at the Vedanta Society of Southern California, before I fell under the charm of Swami Vivekananda. My worn copy of Vedanta for the Western World is before me now. Pencil marks of four decades ago underline: "Vivekananda is preeminently the prophet of self-reliance, of courage, of individual enquiry and effort". He was to be all that and more for me in the years that followed.
One's first acquaintance with Vivekananda is usually made through his writings and recorded talks. This also happened in my case. Almost the first thing I did as a Vedanta student was to read straight through the eight volumes of Swamiji's Complete Works. It would have been difficult to have accepted at once anything so foreign to my Yankee origins as Hinduism. But Vivekananda helped me to absorb Indian thought painlessly, and for this I thanked him. He made Vedanta plausible and not exotic at all. (Partly he accomplished this through his grand sense of humor.)
And I admired Swamiji for his mastery of the English language. I marveled then as I marvel still at his ability to express profound philosophical ideas in simple, interesting English.
Later I had a chance to get to know Swamiji's thought even better through editing a condensation of those Complete Works. The book that resulted was entitled What Religion Is: In the Words of Swami Vivekananda. We hoped it would become a paperback sold through newsstands. Christopher Isherwood contributed a lively biographical introduction. But the book came out in the United States and in England in hardback editions, and after some years went out of print. Then it was taken up by the Advaita Ashrama in India, which did issue it in a paperback which has, I believe, sold well. Eventually — why not? — the volume's intended destiny may be fulfilled and we shall find the best of Vivekananda beckoning readers from the racks of drugstores, bus stations, and newspaper kiosks in the Common Market countries, and — again, why not? — even in Eastern Europe.
The crusader's call in Vivekananda's writings attracted me. My experience as a businessman during the Chicago period had not crushed the idealist. I was more than ever looking for a way of life and a spiritual orientation which allowed a person to become vast, authentic, and integrated. So I found Vivekananda's invitation to spiritual life most appealing. "Come up, O lions, and shake off the delusion that you are sheep." "Religion is not in doctrines, in dogmas, nor in intellectual argumentation; it is in being and becoming; it is realization." 'It is good and very grand to conquer external nature, but grander still to conquer our internal nature." He called for heroism and effort: "Men, men, these are wanted: everything else will be ready, but strong, vigorous, believing young men, sincere to the backbone, are wanted. A hundred such and the world becomes revolutionized." To this invitation I responded enthusiastically. At last I knew what I wanted to do — to enlist in his band of helpers. I had found my purpose in life. I had taken up arms under an admirable leader.
2.
As time went on my acquaintance with Swami Vivekananda was advanced through acquaintance with several people who had personally known him and who helped me form a living link with him.
The first of these was Sister Lalita — Mrs. Carrie Mead Wyckoff. She was one of the three Mead sisters in whose South Pasadena home Swamiji had stayed in the winter of 1900 when he was lecturing in Southern California. Through her assistance the Vedanta Society in neighboring Hollywood was founded thirty years later. In her summer home there at 1946 Ivar Avenue (now Vedanta Place) the lectures were originally given and Swami Prabhavananda housed. And later Sister surrendered her beloved flower garden on the adjoining plot of land for its site, when it became possible to build the Temple in 1938.
Sister died in 1949, a year after I began attending the Society. I cannot claim that I really knew her. But I saw her several times: a small, elderly lady, often dressed in old-fashioned lavender, with a white knitted shawl, serenely moving about the premises. It is said she talked often of Swami Vivekananda and that he came to her in vision when she died. A whole lifetime had been given purpose by the Indian guest whom she had known but for a few weeks. Swami Prabhavananda, whenever he talked of Sister, called her a saint.
The second living contact with Swamiji was by way of Josephine MacLeod — Tantine. She too was residing at the Hollywood center when I first attended services there; and there she died a few months after Sister died, in the autumn of 1949. Tall and extremely thin, with a deeply sallow skin, Miss MacLeod seemed very old to me — as indeed she was. She had been a genuine eccentric — the kind of person who does original, appropriate things without thought of self or consequences. There was a trace of that old strength in her still. On the several times when I saw her I looked upon Miss MacLeod as a most precious relic, because of her deep friendship with Vivekananda and all that she had done to advance his work. Just think, it was to Miss MacLeod that he had addressed the words in his last letter to her: "You have been a good angel to me" and a short time before that: "...and to you, dear Joe, Pranams."
Then there were the Allans of San Francisco — an old couple who had known Swamiji when he was in the Bay Region in 1900. In 1952 I spent a day with the Allans, listening to their enthusiastic recollections of Swamiji. They were in their eighties then and were to die shortly after. Some of what Edith Allen recounted to me is contained in her memories, originally published in the "Vedanta Kesari" in 1924 under the name of Viraja Devi, and later incorporated into the valuable Reminiscences of Swami Vivekananda. Most of the remainder of what Edith and Tom Allan related appears in the memories of Ujjvala (Ida Ansell) printed in the same volume.
To the Allans Swamiji was as alive in 1952 as he had been fifty years before. They made him live for me. In their dining room there was a picture of him placed so that whenever there was a meal those dining faced Vivekananda. And here is how they described him, written down just as the Allans said it: "The beauty of Swamiji nobody can imagine. His face, his hands, his feet, all were beautiful. Swami Trigunatita later said that Swamiji's hands were far more beautiful than any woman's. Swamiji's color would seem to change, some days being darker and some days lighter, but usually there was about it what can best be described as a golden glow."
And there was Ujjvala. She lived the last years of her life at the Hollywood center, dying there on January 31, 1955. Since she had spent her life as a stenographer it was natural that she should help me with office work, to which I had been assigned. So I grew to know Ujjvala well. My recollections of her are recorded in Chapter Twelve of this book.
Ujjvala used to talk much about Swamiji, and something which interested me greatly was that she possessed, somewhere in the horde of keepsakes, a dozen or so unpublished lectures of Swami Vivekananda which she had taken down in shorthand in the San Francisco area in the spring of 1900. An altogether marvelous link with Swamiji, and something which surely should be given to the world before Ujjvala should die.
But Ujjvala was a procrastinator. She was aware that she had this tendency to put things off and struggled against it. Mottos urging energy and action adorned her walls and filled her notebooks. Her intentions were good. So she and I made a pact which had the effect of encouraging transcription of the lectures. The agreement was that she should not come to the office (where she loved to be because there was more excitement there than in her room) any day until after she had worked at least two hours on the transcriptions. Thus Ujjvala got the work done. Thirteen lectures came out of those old stenographer's books, and as they made their appearance, clearly it was Swamiji speaking. They are now contained in Vivekananda's Complete Works. Ujjvala had always dreamed of becoming a famous authoress. Of course this never occurred. But with the entry of these lectures into the official canon of Vivekananda, Ujjvala became far more than a mere writer; she became a transmitter of divine writ!
In Ujjvala's crowded room there hung on the wall a framed portrait of Swamiji. It was a fairly well known photograph taken in Alameda, California, in April, 1900. In it Swamiji is shown with long hair, parted in the middle and falling back to the neck, according to a style worn by some orators of the day. He is wearing a clerical coat and vest buttoned high, with a white clerical collar. There are blossoms in the background. The story of the picture is that Swamiji and several devotees were in the garden of a friend. Swamiji was lying at ease on the grass, enjoying the conversation and participating in it. Someone came who wanted to take his picture, but he did not want to get up. Urged to do so, he stood up, just as he was, before the background of flowering vines, without turban, and not posing at all. He looks as though he is about to speak.
I loved that picture because, it being a contemporary print and kept all those years by Ujjvala, it almost seemed a personal relic of Vivekananda's. When Ujjvala died and we distributed her possessions, this is the one inheritance I claimed.
Since then I have kept the picture near me. The eyes are wonderful. There is a compassionate look in them. As I said, he looks as though he were about to speak. Sometimes I fancy the glass is thinning, the black-and-white photographic paper is taking on life and depth. What would he say if he were to speak? Perhaps: "Never mind failures; they are quite natural, they are the beauty of life — these failures. What would life be without them? It would not be worth having if it were not for struggles. Where would be the poetry of life? Never mind the struggles, the mistakes. I never heard a cow tell a lie, but it is only a cow — never a man. So never mind these failures, these little backslidings; hold the ideal a thousand times; and if you fail a thousand times, make the attempt once more."
3.
A further step in growing to know and love Vivekananda was taken by going to places where he had been. I am attached to him through many associations of place. Near Hollywood there were two. There was Sister's little house in South Pasadena; and there was the old Universalist Church in Pasadena. Later, when I went to Europe to live, there were several others such as a whole series of addresses in Paris, Perros Guirec on the Brittany Coast, and the village of Saas-Fee in Switzerland. And curiously, in later years, as I learned more details of Swamiji's stays in Chicago, I realized that during my Chicago period I had lived in the very region he had frequented — the Near North Side. As the Hale residence at 1415 North Dearborn Avenue had by then become a lodging house, I wondered if by chance I hadn't even lived there for a time or at least known and visited friends who had. And of course the Art Institute, where Swamiji gave that first address at the Parliament of Religions which was to make him famous, was my frequent resort on Sunday afternoons. Could it be that he had showed grace to me even before I had heard his name?
In 1955 I was having dinner with a devotee who lived in South Pasadena. A talented salesman, he had a hearty admiration for Swamiji's strength and drive. Swami Prabhavananda had named him Vireswar. We were talking of Swamiji.
"Did you know," I asked, "that a house where he lived for six weeks in 1900 is nearby?"
"No," Vireswar exclaimed, greatly excited.
"We have often wished the Society might acquire it as a permanent memorial to Swamiji; but there is the problem of the purchase price and also we would need someone to look after the house should it become the Society's responsibility."
We drove over and looked at Sister's former residence at 309 Monterey Road. One could see that it had never been much changed, much rebuilt. You could tell by its style that the front door was the original front door by which Swamiji had entered and left the house. The wooden front steps and porch were worn; so much so that it was apparent that they had never been replaced. The planks were the very planks that his feet had touched. We arranged to gain entrance to the house. It was being used as a workshop for light manufacturing. The interior was in disorder but did not seem to have been modified and was not dirty.
Soon a sale was consummated. Vireswar helped buy the house for the Society and made his home there as caretaker. From behind the disorder the original residence emerged, much as it must have been in Swamiji's time.
In later years when I stepped into Swamiji's tiny bedroom on the second floor, which became the shrineroom, I tried to see him there, sleeping, or changing his clothes, or washing his face and hands, or considering what he would say in the next lecture; and I thought: "One more means of identification with you."
And there was the Universalist church at the corner of Raymond Avenue and Chestnut Street in Pasadena. It was a large, steepled, all-wooden structure. It must have been built in the 1880's. Grizzled Italian cypresses, which in the early, romantic days of Pasadena's founding were popular in California landscaping, stood in the yard. The church was near what had once been the center of Pasadena, just north of the Santa Fe railroad station and the Green Hotel, and close to the old city park, all sites known to Swamiji. The Shakespeare Club, where Swamiji gave several talks, was a block away. This is not a desirable part of town now; but in its day this church must have been one of Pasadena's most fashionable. It was here that Swamiji gave the renowned "The Way to the Realization of a Universal Religion".
The Universalists had moved out long before, and for the next forty years or so the structure served as the Southern California home of a fundamentalist Christian denomination, the Church of the Nazarene. Yes, the same denomination as that of which I had been an adherent in Michigan as a youngster. How curious that such a narrow religious group should hold services for more than a generation in a place where such words as these had rung out: "Any attempt to bring all humanity to one method of thinking in spiritual things has been a failure and always will be a failure. . . . Each religion . . . takes up one part of the great, universal truth and spends its whole force in embodying and typifying that part of the great truth. . . . All these religions are different forces in the economy of God, working for the good of mankind. . . . Our watchword, then, will be acceptance and not exclusion. . . . I accept all the religions that were in the past and worship with them all. . . . I shall keep my heart open for all the religions that may come in the future."
Now the old Universalist church was at the end of its usefulness. Floors sagged. By modern standards for public buildings the auditorium was a firetrap. The structure had already been condemned as unsafe. The Church of the Nazarene had moved to a modern building of concrete and stone in a newer part of the city. A wrecking crew was scheduled to demolish the old structure.
Obtaining a key from the secretary of the new church, I entered the abandoned building through a cellar door. Pipes had broken, so that two or three inches of water stood on the floor of the basement Sunday school rooms. Ascending a narrow circular staircase that Swamiji must have used, I reached the speaker's platform. Behind was the choir loft. Before me was the semicircular auditorium with overhanging balcony. The church must have seated about eight hundred. Openings, now boarded over, showed where stained glass windows had been. The organ was gone. The pulpit had vanished. In the dim silence I stood where Swamiji had stood, and I felt close to him. Then I went and sat down in one of the original leather-covered seats which had surely been there since the beginning. I looked at the empty rostrum; and I felt a connection with him. "But," I thought to myself sadly, "why couldn't I have been here in 1900 instead of now? On the other hand, except for good fortune I might have missed Swamiji entirely. How lucky to have had even this much of a relationship with him."
4.
In 1966 I came to France to live, at the Centre Védantique Ramakrichna. One was aware that Swami Vivekananda had been in Europe several times, notably in France, but one knew few details. His letters and several biographies permit us to follow his movements in a general way. But one soon realized that Swamiji's activities on the Continent had never been researched in any depth by someone on the spot.
So for the following ten years I investigated all aspects of Vivekananda's passages in France, Switzerland, Germany, Holland, and Italy, as well as his return to India in 1900 via Turkey, Greece, and Egypt. Eight illustrated articles appeared in the "Prabuddha Bharata" setting forth these findings. We now know quite a good deal about what Vivekananda did in Europe in 1895, 1896, and 1900. These findings, called Swami Vivekananda in Europe, were published as a book in Bengali in 1988.
What delightful work this was! How lucky I felt to be able to do it!
There was Swamiji's vacation trip in July, August, and September, 1896, to France, Switzerland, Germany, and Holland. I was able to trace his sightseeing route and modes of transport from London across France to the splendid valley of Chamonix, at the base of Mont Blanc. Thence to Zermatt in Switzerland. It was on the heights above Zermatt, in the shadow of the Matterhorn, that Swamiji plucked the mountain flower "growing almost in the midst of eternal snow" of the Mont Rosa glacier (as he says in his letter to Swami Kripananda of August, 1896) — which flower he sent to his disciple, hoping that he might attain to a similar spiritual hardihood "amidst all the snow and ice of this earthly life."
At the nearby Alpen village of Saas-Fee Swamiji paused for two weeks "to practice hard" and seems to have passed his days there in a state of spiritual exaltation. As his letters show, Swamiji's resolve to establish what was to become Mayavati, an advaitic monastery in the Himalayas, was confirmed during this sojourn at Saas-Fee. In Saas-Fee I identified the hotel where he stayed and found the chapel of the Virgin Mary where we are told he offered mountain flowers to the Mother as a thanksgiving for having been saved from a possible fall off a cliff's edge during a walk.
In the letter to Kripananda to which I have already referred, Swamiji speaks of ashramas: "Would there was one. How would I like it and what an amount of good it would do to this country." I have responded to his wish by making an annual pilgrimage to Saas-Fee since many years and live the days I am there in my one-man ashrama (I call it Mayavati West) steadily conscious that that village is pervaded by his presence. Sometimes other devotees accompany me. Who knows but that one day there may be a second advaita ashrama at Saas-Fee.
On to Lucerne, Heidelberg, Coblenz, Cologne, Berlin, and finally Kiel, where he spent two pleasant days with the great German Sanscritist, Paul Deussen. (He had met Max Muller of Oxford, Europe's other eminent orientalist, a couple of months before.) Swamiji returned to England in late September by way of Hamburg and Amsterdam.
I identified the Parisian residence (6 Place des Etats Unis) where Swamiji stayed for some weeks as the guest of Mr. and Mrs. Francis Leggett when he visited the Exposition Universelle Internationale in 1900. This handsome mansion, presently housing the showroom of a manufacturer of crystal, is now established as a place of pilgrimage for admirers of Swamiji coming to the French capital. Swami Ritajananda held classes on the Bhagavad-Gita at 6 Place des Etats-Unis from 1968 to 1975.
I was also to find the apartment where, later that same summer, Swamiji resided as the guest of Jules Bois, in the southern part of Paris, facing the Parc de Montsouris. And indeed several other locations in Paris where he stayed or went. We see him appreciating the French capital at the height of what has been called its Belle Epoque, meeting notable personalities of the day, studying French culture, admiring the country's intellectual accomplishments, learning to speak and write tolerably well the French language.
I studied the Congress of the History of Religions at which Swamiji spoke in September of 1900 and was able to add to our knowledge of that event and of what he said in the sole public talk he ever gave on the Continent.
That summer Swamiji vacationed on the Brittany coast and visited the ancient Christian shrine of Mont Saint Michel. We now know with some precision the dates and circumstances of his two trips to Lannion and Perros Guirec.
Swamiji made the acquaintance of a famous cleric of the period, Père Hyacinthe Loyson, who had broken with the Catholic Church over the question of the infallability of the Pope. Through establishing an acquaintance with Loyson's granddaughter (the Père left his Order and married) I was able to attain access to the journals of Loyson, in which are found entries referring to previously unknown doings and sayings of Swamiji during the period of their acquaintance.
The internationally renowned opera singer, Mme. Emma Calvé, was another of Swamiji's friends. At Millau, in the south of France, where Mme. Calvé lived the last days of her life and is buried, I was led to discover the singer's travel notes and personal papers, in which one finds many references to Vivekananda, heretofore unknown. These help us to appreciate the breath of Swamiji's knowledge and how compassionate his heart was for this celebrated but troubled woman. A previously unknown letter from him to her, commiserating her on the death of her father, written only a few days before his own death, was brought to light and has been published.
After a three-months' stay in France, Swamiji left Europe forever by way of Munich, Constantinople, Athens, and Cairo. I was able to trace this voyage in detail and identify the auditorium near Constantinople where he gave a clandestine talk on the Vedanta in a Christian missionary college — clandestine because of the opposition of the ruling Turks. Then to see the Parthenon, the Great Pyramid, the inscrutable Sphinx, and good-bye forever to our part of the world, perhaps, I have often imagined, with a touch of regret. Swamiji loved the Occident, felt at home with occidentals, and was, I believe we may say — and that makes him so understanding of us — at least half occidental himself: or if you will, entirely universal.
Going to places where he was and imagining him there may not be a great form of sadhana, but it's not nothing. The more connections we can make with the Divine the better.
5.
In coming to the Centre Védantique in 1966 I had the good fortune to become a close friend of an outstanding French woman who, although she had never met Vivekananda, was an ardent admirer of him and who did everything she could to advance his cause: Mme. Drinette Verdier. Her love for Swami Vivekananda and her faith in him were a wonderment for all who knew her. She provided several more links with Swamiji.
Mme. Verdier was approaching eighty when I met her. Some forty years before she had sought to deepen her knowledge of Vivekananda by cultivating the acquaintance of Mme. Calvé and of Miss MacLeod. From Mme. Calvé she obtained and preserved several reminiscences concerning Swamiji which she related to others and to me and which have now passed into the literature concerning Swamiji. From Miss MacLeod Mme. Verdier obtained souvenirs of Vivekananda. And at the end of her life Miss MacLeod gave to Drinette the pendant the famous Parisian jeweler René Lalique had made — which was at once a beautiful jewel and a small reliquary containing some bits of Swamiji's hair. All photographs of Tantine taken in her latter years show her wearing this pendant. The pendant was Mme. Verdier's most precious possession, and to her both a link with her great hero and a talisman offering protection to a solitary and aging woman.
Sensing she was soon to die, and wanting to be certain that this valuable relic should be left in good hands, Mme. Verdier invited Swami Ritajananda and me, together with Swami Swahananda, who was visiting France at that moment, to her apartment. There in her accustomed gracious manner, although almost too ill to sit upright, Mme. Verdier presided over a high tea in our honor. As we finished, she took off the pendant and placed it in the hands of Swami Ritajananda. This was on 9 August, 1972. She died on October 24. The pendant is now preserved at Belur Math.
It was Mme. Verdier's driving ambition that the Complete Works of Swami Vivekananda should be published in French. So in the latter 1930's she sought out M. Jean Herbert, who was a friend of Miss MacLeod and of Swami Siddheswarananda, and who had already brought out some of the works of Vivekananda in French, and commissioned him at her own expence to make the necessary translations — a heavy task which required several years of work by Herbert and a staff of assistants. As a result, the French-speaking public has been given access to lectures, letters, and writings of Swamiji to which it had no access before. I often think that Mme. Verdier (and she would have liked nothing better) was Swamiji's "invention" by which he was to make his message known in the France he admired so much, in the language he worked so hard to master.
6.
Long ago Swami Prabhavananda had somehow come into possession of one of Swami Vivekananda's visiting cards. It was a simple oblong of pasteboard with Swamiji's name engraved on it, inscribed in Swamiji's handwriting: "With my love and blessings" or some such message, followed by his signature. Swami Prabhavananda kept this card always with him, inside his wallet. Once he took it out and showed it to me; and when I felicitated him enviously on his good fortune in possessing such a relic, he remarked: "Yes, it is curious. Although I am the disciple of Swami Brahmananda, I have always been unusually favored by Swamiji." (He was no doubt thinking of his close relations with Sister, Ujjvala, and Miss MacLeod, all former associates of Swami Vivekananda, and what they had contributed to the success of his life and work.)
Now I can say something similar. I feel as though Swamiji afforded me a kind of "special status" too. All the living connections I have enjoyed, and the opportunities I have had to go to places associated with him, have kept my mind centered on him. Permitting me to have these experiences was his way of showing me exceptional grace.
And he has actually accorded to me for safekeeping until my own death — when they shall go to the Order's archives — two relics of exceptional interest: the original of the telegram he sent on August 3, 1900, from le Havre, announcing to the Leggetts his arrival that day in Paris. This was given to me by Mrs. Frances Leggett, daughter of Swamiji's Paris hosts. Secondly, a letter in Swamiji's own hand, offered by M. Jean Herbert a few weeks before his own death on August 21, 1980. It is not an important letter and the text has been published in the Complete Works, but it is one more link with Swamiji.
No doubt the historical research and writing which I have done concerning Swami Vivekananda are important. Leaving what records I have established — guideposts along a future pilgrim route — is the "fortune" I pass on to those who will follow. Happily, Marie Louise Burke (Gargi) has relied on many of these findings in producing her extraordinary six-volume work Swami Vivekananda in the West: New Discoveries.
But for me the central point is that during these years, many, many of my waking hours were taken up in thinking of a superior being. I have never been a great meditator, nor have I cared much for ritualism. I am not an ascetic. I cannot pretend to have pursued a life of enormous austerity. The only virtue I can claim is that I have become — as was the case of these several other western individuals I have mentioned and who inspired me — a Vivekananda enthusiast. I even have to catch myself sometimes when signing my name, which also commences with "V", so as not to append his signature to letters and checks instead of my own!